I thought it would be nice to do a post in honor of the most indispensable of beverages, coffee.
The inspiration for this post came to me at about 7:30 on Friday morning. This is right about the time that I realized that I had worked 19 & 1/2 hours out of the past 24.
This little story doesn't even start with coffee, or with any intention on my part of getting to have any. It starts with a normal work day on Thursday. (With a normal night's sleep before. By which I mean, about 5 & 1/2 hours.) Then, in the afternoon, we got a lot of work. A hell of a lot of work in fact. And all of it the clients needed back first thing in the morning. And since we have such a small staff, there was no way that we would be able to get it done with normal working hours. So I worked my normal shift (until 4:30), went to my class at the Y, ate some dinner, and was back at work by 9pm, intending on staying the whole night. My entire normal shift on Friday even, if it was necessary.
This is where the coffee comes in. There is no way that I would have been able to pull an all-nighter at work with out it.
I actually brought in my own coffee even. The coffee they have there is pretty much total crap.
It wasn't just any coffee that I brought in. It was

coffee! So very tasty and good. After the 10, about ten cups of coffee I had that evening, I was not only still awake, but still wide awake and ready to go at 7:30 in the morning when we finally finished all the work that we had. Granted, this is about how I felt by then -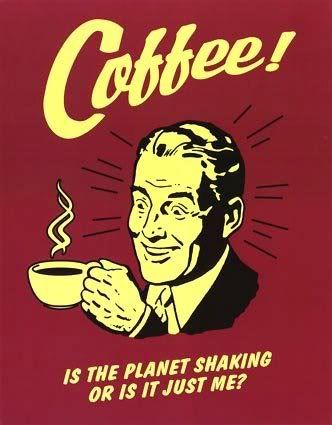 And I was very happy to know that all the work was done, and shortly I would be able to go home and sleep.
Hopefully it's not something I'll have to do again anytime soon! I'm perfectly okay with staying up all night, but I want it to be on my own terms. Staying up all night for work is much less fun!
Thanks for always being there for me coffee! I love you!